Viet Nam attaches importance to the friendship relations and multifaceted cooperation with African nations, including Morocco, asserted Ms. Ngan.
Referring to the two-way trade value of US$212.7 million in 2018, which is not proportional to the two nations' potential, the Vietnamese leader affirmed that Viet Nam, a market with 90 million people, is willing to work as a gateway to help Morocco enter ASEAN.
Mr. Saadeddine Othmani suggested the two nations make efforts to strengthen economic cooperation and the two sides' business communities need to enhance connectivity to seek for further business and investment opportunities.
Ms. Ngan expressed her delight that the two nations are heading to launch a direct air route and promoting banking cooperation to facilitate their businesses to expand investment in the future.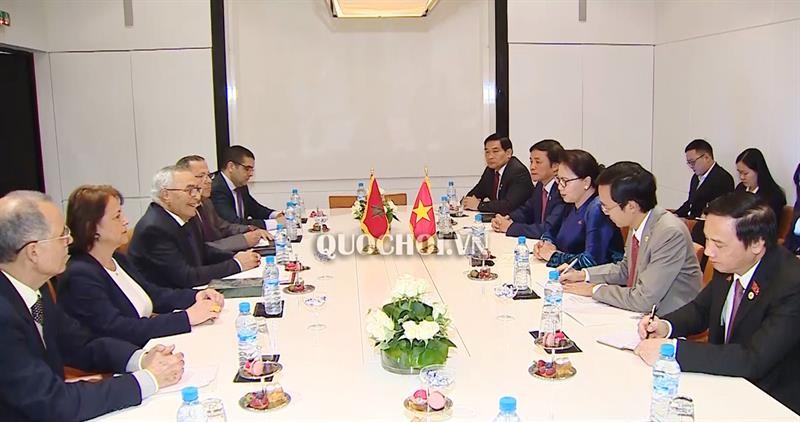 She thanked the coordination and advocacy of Morocco for Viet Nam at multi-lateral mechanisms.
For his side, Mr. Saadeddine Othmani expressed his thanks to Viet Nam for its support for Morocco at international forums and cooperation with ASEAN, confirming that the Morocco's Government is determined to deepen the relationship with Viet Nam.
At the meeting, Ms. Ngan conveyed General Secretary, State President Nguyen Phu Trong's invitation to King Mohammed VI to pay a State visit to Viet Nam and PM Nguyen Xuan Phuc's invitation to PM Saadeddine Othmani to soon pay an official visit to Viet Nam.
The same day, NA Chairwoman Nguyen Thi Kim Ngan met with President of the Morocco-Viet Nam Friendship Association Elktiki Mustapha.
Link liên kết: http://news.chinhphu.vn/Home/VN-willing-to-work-as-gateway-for-Morocco-to-enter-ASEAN/20193/36261.vgp