Viet Nam has become the first Asian country to launch the #3500LIVES campaign initiated by the International Automobile Federation (FIA).
The launching event was attended by Permanent Deputy Prime Minister Truong Hoa Binh, Minister of Transport Nguyen Van The and FIA President Jean Todt.
Every day, 3,500 people are killed on the roads. Young people are particularly affected as road crashes are the number one cause of death of 15 to 29 year olds.
This is an alarming trend, a plague that needs to be stopped, a human, economic and social cost which has become unacceptable. The FIA is on the front line in tackling this challenge, together with our 245 member organizations around the world.
Everyone has a role to play in making safer roads for all. The #3500LIVES campaign outlines Golden Rules that can help save your life and the lives of others.
In Viet Nam, although traffic accidents has gradually dipped between 2012 and 2018, they have caused great human and property losses.
In the first two months this year, there were 2,822 traffic accidents, killing 1,356 and injuring other 2,169.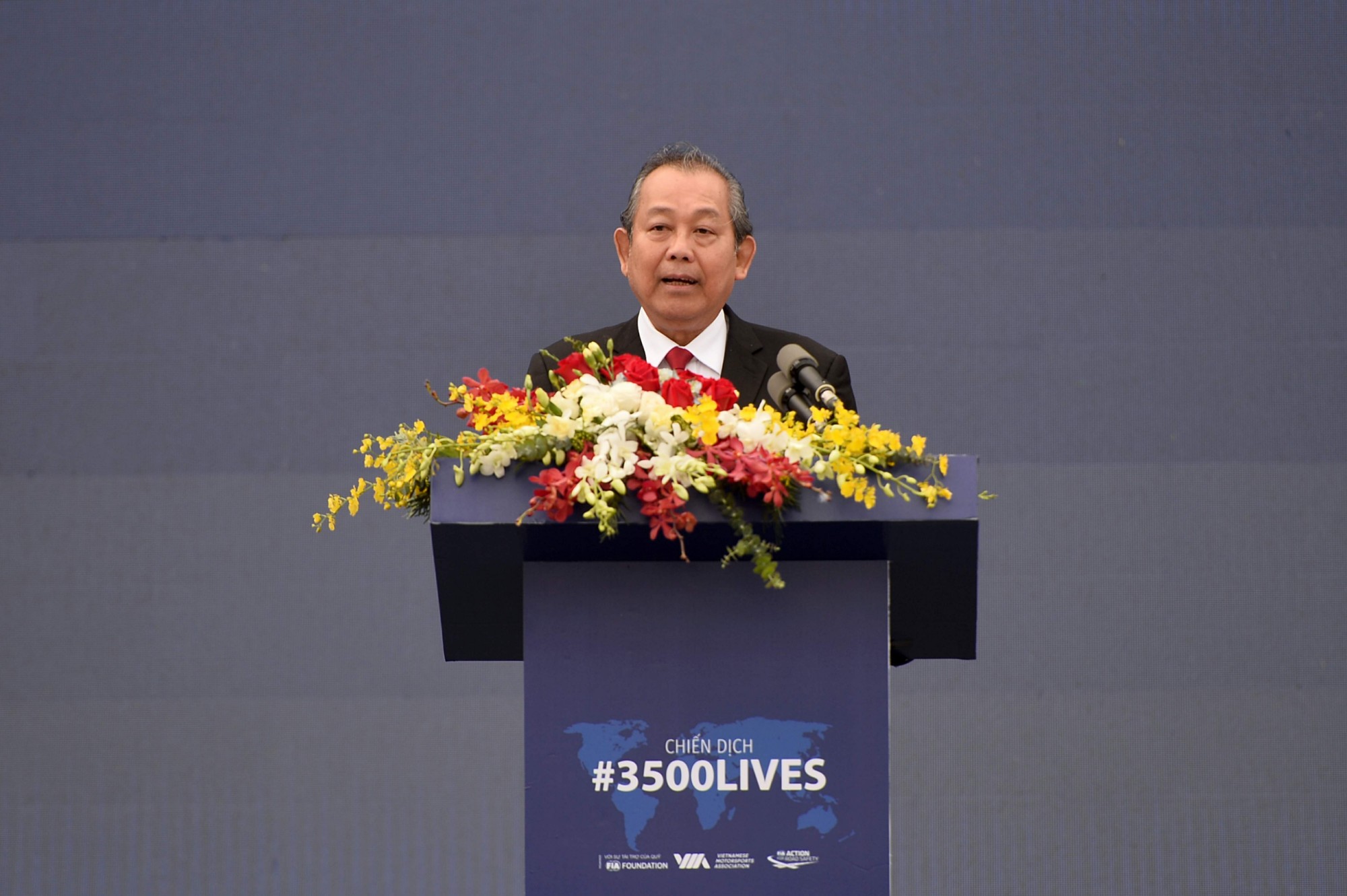 A total of 136 traffic accidents were recorded, killing 111 people and injuring another 54 across Viet Nam during the four-day New Year holiday alone, according to the Traffic Police Department.
Traffic police also handled 15,200 traffic violations, suspended 3,300 driving licenses and fined violators a total of VND13.8 billion ($595,000) during the weekend holiday.
The Vietnamese Government set goal to reduce traffic accidents by 5-10% in all three criteria, namely: number of accident cases, number of deaths, and number of serious injuries.
The launch of the #3500LIVES campaign in Viet Nam is a meaningful activity and expected to help improve public awareness, especially young people, with a focus on 12 "golden rules" for road safety, said Deputy PM Truong Hoa Binh while he was addressing the launching ceremony.
In addition, the campaign launch reflects the Government's strong commitment to make Viet Nam a safe, friendly and civilized destination, Binh stressed./.
Link liên kết: http://news.chinhphu.vn/Home/VN-becomes-first-Asian-country-to-launch-global-3500LIVES-campaign/20193/36184.vgp