On the morning of January 17, 2019, the Ministry of Industry and Trade held an online conference to summarize the work in 2018, deploying the tasks in 2019. Speaking and directing the Conference, Prime Minister Nguyen Xuan Phuc emphasized that Vietnam can become a tiger, a dragon or not, it depends very much on the breakthrough development of Vietnam Industry and Trade in the coming time. The Prime Minister believes that the industry and trade "only have progress and no backward".
Speaking at the Conference, Prime Minister Nguyen Xuan Phuc assessed that after many years of renovation, Vietnam Industry and Trade has continuously developed, truly become a key economic sector, and an important force for the recovery and economic development of the country, especially in recent years.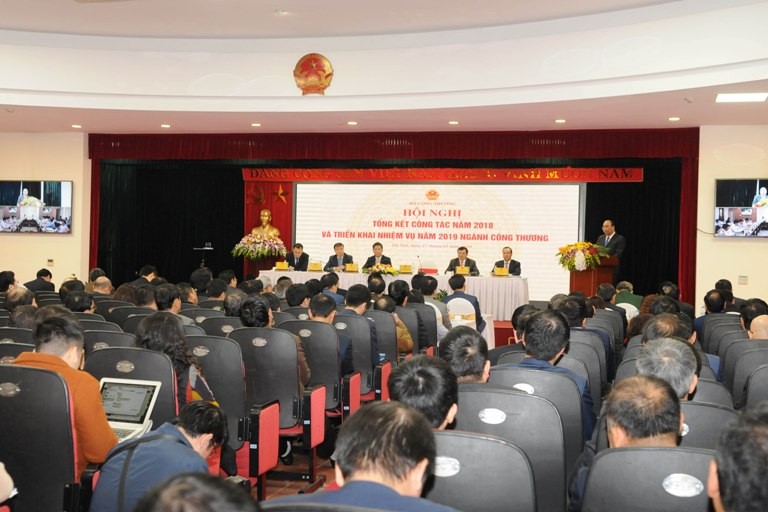 Ministry of Industry and Trade has built institutions, restructured management methods with solid steps, especially the Ministry has submitted to the Government and the National Assembly for promulgating some Laws such as Competition Management Law , Law on management of explosive construction, Market Management Ordinance ...
The Prime Minister praised in 2018, Ministry of Industry and Trade cut down to 677/1216 conditions of 27 industries under the Ministry's management. The Ministry of Industry and Trade is still the leading ministry in developing online public services, the National Single Information Window, the Ministry's electronic information Portal, continues to facilitate people and businesses. The Prime Minister stressed that Vietnam's electricity access index increased by 37 grades, ranked 27th in the world and belongs to the top group of ASEAN, which is an unexpected progress of the Ministry of Industry and Trade. Vietnam is one of the countries that boasts the best access to electricity, the fastest increase.