The resolution targets to stabilize the macro-economy; control inflation; raise productivity, quality, efficiency, self-reliance, and competitiveness of the economy; improve the investment and business environment; make practical changes in strategic breakthroughs; restructure the economy and the growth model; promote innovation; develop health care, education, training, culture, society; tighten the management of natural resources; protect the environment; prevent natural disasters; respond to climate change; boost administrative and judicial reforms; streamline the apparatus; prevent corruption; exercise thrift practice; consolidate national defense and security; ensure social order and safety; improve foreign diplomacy work and international integration.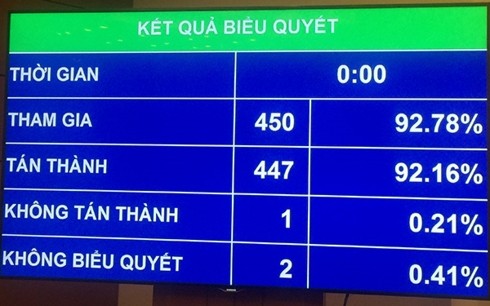 The resolution targets a gross domestic product (GDP) growth of 6.6-6.8%; a total export turnover rise of 7-8%; a trade deficit of below 3% of the total export turnover; and total investments for social development accounting for 33-34% of the GDP.
The rate of poor households will be reduced by 1-1.5% while unemployment rate will be cut under 4% in urban areas. The ratio of trained workers is expected to reach 60-62% of the workforce. Meanwhile, 88.1% of the population will be covered by health insurance. The forest coverage is projected to be 41.85%.
To fulfill the aforesaid norms, the Resolution defines ten key tasks and solutions for 2019.
The Resolution requested the Government, local authorities, the Supreme People's Court, the Supreme People's Procuracy of Viet Nam, the State Audit Office of Viet Nam to implement the resolution./.
Liên kết link: http://news.chinhphu.vn/Home/NA-sets-6668-GDP-growth-rate-for-2019/201811/35115.vgp